UPDATE *Starting October 1, 2018, the exam content for Levels I, II and III will be updated to the following references: NFPA 70 2014, NFPA 72 2016, NFPA 101 2015, IBC 2015. The Level IV exams will be updated before the end of the year.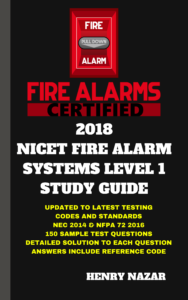 Don't take the NICET Fire Alarm Systems Level 1 Certification Exam until you study this guide!
*This NICET Level 1 Study Guide includes 150 questions referencing the

NFPA 72 2016

,

NEC 2014

, OSHA standards and technical/theoretical disciplines.
*Each question is accompanied by the answer and the standard or section of the code (NFPA, NEC and OSHA).
*Each question is a multiple choice (4 choices) similar to the format of the actual NICET exam.
*Questions are challenging enough to test your readiness.
This study guide helps you prepare more efficiently for the exam.
Order Now @
Amazon Reviews….

 "If you are studying for NICETLevel I this is the only book you need to buy besides your code books. You don't have to spend 100s of dollars for multiple books or training classes. Just one this book."

 "I finished and passed my NICET Level I test just 3 hours ago—77 questions, 110 minutes, ALL were research questions from NFPA 72 2013.
I used Henry Nazar's book to practice for the test. I am glad I did. The research practice offered in his book was essential for the exam.
If I had not studied this book, I would not have passed. Be aware that the questions on the test were not the same questions in this book. But, learning how to find the answers in this book and practicing made all the difference.Thank you, Henry."

 "Bought this book and used it as big portion of my study material for my NICET Level 1 Exam. There is no magic pill you can take to pass you still need to know your way around NFPA 72, and the NEC. You still need to study OSHA, Basic First Aid, basic Electronics and Electricity in order to pass on the first try. It was a big help for me so if you are ready to take your first NICET Exam for Fire Alarm Systems I highly recommend this book. It's worth every penny!"

 "Good tool. Very helpful. Passed!"

 "Excellent!"

"Bought this guide 3 weeks before exam, studied and passed!"